I think the most powerful, and most important, bit of teaching I do all year is our unit on slavery and life in both the North and South just before the Civil War. The truth of course, is that slavery was part of our nation's history long before the Civil War. In fact, it was an issue our founding fathers deliberately chose to avoid grappling with even as they wrote those famous words about all men being created equal and being endowed with unalienable rights. And of course, a number of our most revered founding fathers were slave owners themselves, and profited mightily from the labors of the human beings they owned, traded for goods, and sold away from their children and spouses. My students are shocked, bewildered and outraged by the hypocrisy of these men, even as they admire the way in which they guided the young nation through revolution, independence and this experiment of democracy. History is complicated, and for many of my sixth graders, this is the first time they begin thinking about history in a critical, analytic way. It is an important journey, and I am always on the lookout for books and movies that I can use in this investigation.
Master George's People: George Washington, His Slaves, and His Revolutionary Transformation
by Marfe Ferguson Delano, with photographs by Lori Epstein is a wonderful new book which is exactly what I need for this unit of study.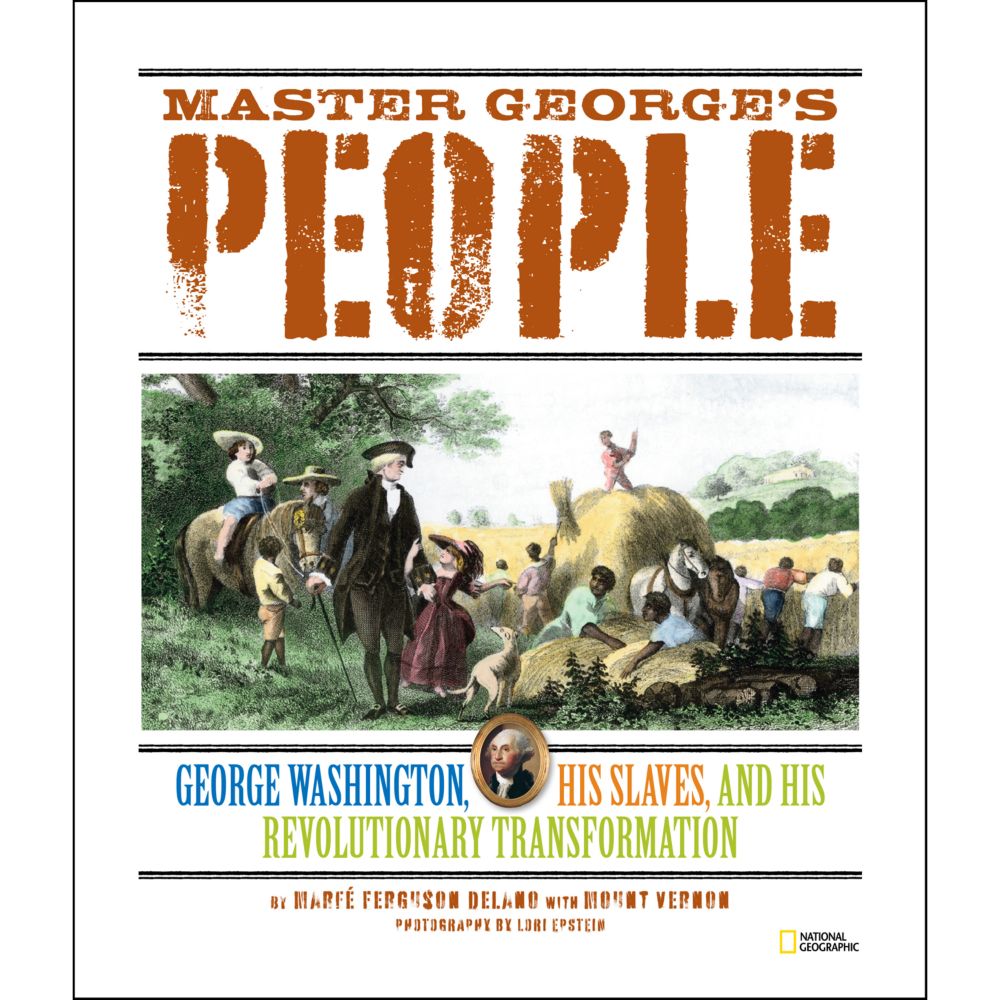 George Washington became the owner of ten human beings when he was just eleven years old himself. In his early years, he was very much the Virginia plantation owner – used to buying, selling and trading what he considered to be his property. He even took part in the raffle of slave children in Williamsburg in 1769 – a moral low point. The Revolutionary War changed Washington's attitudes in some ways. During the war, he commanded brave African-American soldiers, black men hoping to win equality through the example of their stellar service – and Washington, according to the author, must have "recognized the irony of his position: He was leading the struggle for the revolutionary ideals of 'life, liberty and the pursuit of happiness', while he himself continued to hold fellow human beings in bondage." But ,Washington was a man of his times, and even though he tried to freed his slaves upon his death, he continued to profit from their free labor at his beloved Mount Vernon while he lived.
This beautifully illustrated book takes us though Washington's life as it related to slaves and the running of Mount Vernon.
We learn how integral slaves were to the every day life of continued prosperity of Mount Vernon. We learn who some of these men and women were, how their lives intertwined with the lives of Washington as well as of the new nation. And we see photographs of Mount Vernon today, a place were costumed interpreters bring history alive everyday so that we can experience a bit of history as it really was – complex, complicated, full of ironies and terrible every day sacrifices.