It's Monday! What Are You Reading? From Picture Books to YA! is hosted by Jen Vincent  @Teach Mentor Texts & Kellee Moye @ Unleashing Readers.
One of the great highlights of last summer was being able to attend the Washington County State Fair.  We had heard so much about it ever since we'd purchased our farm in upstate New York, for every where we went (or so it seemed) the whole point of summer work was to be able to "show" at the fair.  On the day we visited, we saw kids of all  ages proudly "showing" every variety of farm livestock to be found: chickens, goats, horses, ponies, hens, roosters and cows.  For a citified person like me, it was all rather grand and marvelous.  Farm kids who "show" were so impressive…I was hooked!
Reading Sharon Creech's enchanting new book, Moo, took me back to the world of the fair and gave me a whole new perspective on the kids who work so hard to train and groom their animals, day in and day out, so that they can glisten and gleam and have all the right moves at state fairs everywhere.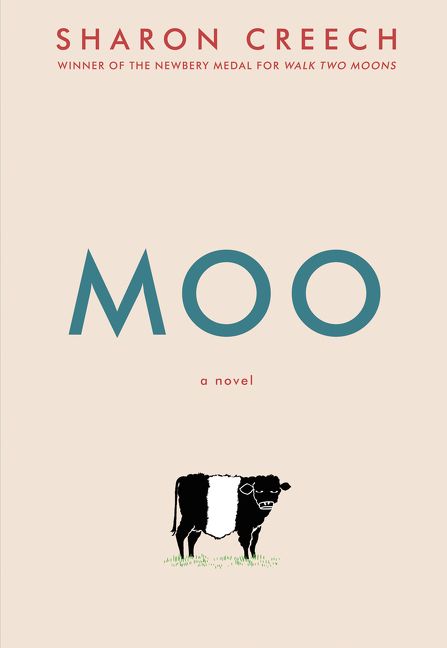 The story is set in Maine, rural and lovely, to which twelve year old Reena and her seven year old brother Luke suddenly move from their bustling city life.  Before they can adjust fully to this new way of life, their parents volunteer their services to the crusty old lady on the farm next door…the one who owns a rambunctious  pig, an ever present snake, a rowdy cat…and a stubborn cow by the name of Zora.
Can Reena take on the task of getting Zora ready for the fair?  Will this 800 pounds of ornery stubbornness get in the way of Reena's new dream: to show at the county fair?
There is just so much to love about this warm and funny story, not the least of which is the way Sharon Creech plays with words and white space in whimsical ways.  I shared Moo with my sixth graders last Friday, and was thrilled to see it begin its rounds among of long list of kiddos excited to read the latest treasure from one of their favorite authors.