It's Monday! What Are You Reading? is hosted by Jen Vincent @ Teach Mentor Texts
I am finally making my way through my summer stack of books, beginning with two stunning books I immediately fell in love with: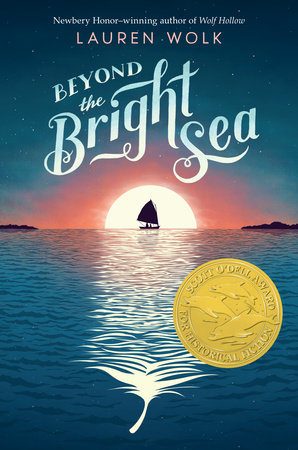 Lauren Wolk's Wolf Hollow was such a mesmerizing read, that I had nothing but the highest expectations for her newest title, Beyond the Bright Sea.  Here's the jacket copy:
Twelve-year-old Crow has lived her entire life on a tiny, isolated piece of the starkly beautiful Elizabeth Islands in Massachusetts. Abandoned and set adrift in a small boat when she was just hours old, Crow's only companions are Osh, the man who rescued and raised her, and Miss Maggie, their fierce and affectionate neighbor across the sandbar.

Crow has always been curious about the world around her, but it isn't until the night a mysterious fire appears across the water that the unspoken question of her own history forms in her heart. Soon, an unstoppable chain of events is triggered, leading Crow down a path of discovery and danger.
On the surface, Beyond The Bright Sea reads like is a suspenseful mystery, and Wolk knows just how to pull the reader along with perfectly calibrated tension and clues to keep track of and decipher.  But, it is also a story about family and love: what is a "real" family? can love survive tragedy and speak across the distance of time?  The three main characters – Crow, Osh, and Miss Maggie – are utterly unforgettable.  I loved that Osh and Miss Maggie, quirky though they may be, were  nurturing and thoughtful adults; even when they didn't know quite what to do, they remained honest and honorable, always helping Crow to see the right way forward.  I worry sometimes that there are not enough characters like these in our middle grade and YA books – adults who behave as adult should.  And, Wolk's writing is just exquisite; here's a passage I read over and over:
The lobster cakes were hot and buttery, brown and crunchy on the outside, sweet and white on the inside.  She's baked cheese into the biscuits and topped each one with a dab of pepper relish.  For dessert she'd brought out a dish of strawberries dusted with a little cane sugar.

The breeze curtsied as it passed by.

A chimney swift sketched a curlicue overhead.

If there had been music, it might have been too much to bear.
This will be our first read aloud of the year;Beyond The Bright Sea is the perfect book with which to launch a year of joyous reading.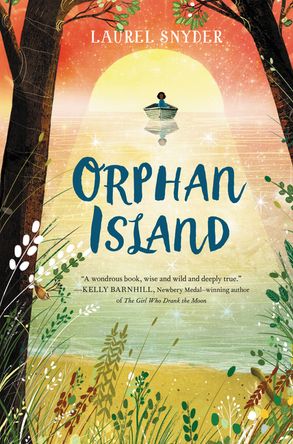 I read Laurel Snyder's Orphan Island in one sitting, it was simply impossible to put down! Here's the jacket copy:
On the island, everything is perfect. The sun rises in a sky filled with dancing shapes; the wind, water, and trees shelter and protect those who live there; when the nine children go to sleep in their cabins, it is with full stomachs and joy in their hearts. And only one thing ever changes: on that day, each year, when a boat appears from the mist upon the ocean carrying one young child to join them—and taking the eldest one away, never to be seen again.

Today's Changing is no different. The boat arrives, taking away Jinny's best friend, Deen, replacing him with a new little girl named Ess, and leaving Jinny as the new Elder. Jinny knows her responsibility now—to teach Ess everything she needs to know about the island, to keep things as they've always been. But will she be ready for the inevitable day when the boat will come back—and take her away forever from the only home she's known?
Every aspect of the actual island in  Orphan Island is beautifully imagined and vividly described – it becomes another character in the story, to be deciphered, empathized with, and understood.  As Jinny enters her Elder-hood, she cannot imagine ever leaving this magical place of serene predictability, even though the rules say that leave she must.  The closer she gets to Changing Day, the more she wants things to stay the way they are, even it it means breaking the rules and opening the island and its nine inhabitants to all sorts of dangers she can barely even imagine.
But, Jinny wants what Jinny wants, it's a character trait everyone else on the island has come to know well.  The question is, will Jinny be able to take that step into maturity that all children must learn to do: putting aside what she wants so that the island she so loves can continue to exist as it does for benefit of other children.
The writer Anne Ursu described Orphan Island as a "lovely fable of childhood and change" – and that is exactly right. I can't wait to share it with my sixth graders in the Fall.