Slice of Life Tuesday is hosted by Two Writing Teachers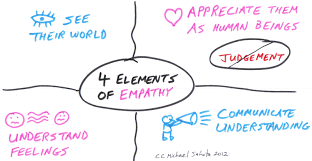 Last week, as my kids were beginning to get caught up in the "I want-ness" of the holidays (an I-phone! my own laptop! tickets to Hamilton!), I asked my kids to step back a bit and think  about something else:
Slice of Life #11:

This week, we will think about something that we need to make more of: a tradition of empathy, beginning with right here at our middle school. Please watch the two videos, and then post about the following: what does empathy mean to you? what can you do to practice empathy here at the middle school? how can teachers be empathetic to students at our school (do NOT discuss homework in this context, think beyond the question of just homework, please )?
The videos (here & here) were created by and for middle school students, and I had a feeling that the scenes and stories portrayed would resonate with my sixth graders.  I was interested, too, in what they thought of us, the grown ups "in charge" of their school days.  We teachers are very adept at talking the talk about so much (not interrupting,  wearing school appropriate clothes, being kind) but not walking the walk.  Kids, as we know, notice everything…but they especially notice that.  So, as much as I was looking forward to hearing their thoughts about empathy, I really wanted to know their thoughts about us.  Needless to say, I was not disappointed:
They were able to articulate their ideas about empathetic behavior:
Romy: Empathy can change the world, but we have to make it happen. To me, empathy means a path to a better world in which people don't have to feel invisible, hurt, or scared of everyone around them. Empathy is showing compassion and consideration for the people around you. People can be empathetic by showing kindness and respect each other, understanding that people are different and we should not judge others unless we are in their shoes. You have to care about others but to do so for your own self and not to get noticed.

Empathy is a choice we make and it comes from within. Empathy can always be improved, but we have to "practice" it. We can do this in our middle school by caring and being kind. For example, if someone is sitting alone during lunch or outside, we can invite them to join us. Also, if you seeing someone being made fun of, you can stand up for them and let them know that they are not alone and that you care.

Finally, our teachers can be more empathetic towards the students at our school. Teachers can do this by understanding that not all students learn the same and some students need more time to learn. Teachers can also be more patient when listening to students because sometimes students go through rough times and need to be able to talk to someone. This can make it hard to concentrate and teacher should be more considerate and patient because of that.

Isabella: To me, empathy means showing love, and showing care. It means that the simplest act of kindness like giving  a smile or saying "hi" can change a persons day, change there week, or change their life. They could walk through the door and see their parents fighting in one room, and siblings fighting in the next. At the end of the day no matter how terrible they feel they will remember that someone noticed them.

I think teachers here at the middle school could be more empathetic starting with student-teacher relationships. It should be our job to let our teachers know what we're going through at home and how we feel. They're not going to know if someone's parents are getting divorced or someone passed away. I think if our teachers knew how we felt then we would all be understood a little bit better.

I believe that there is empathy in all of us deep down inside, and I think that we just need to step up, and show it.
They offered me perceptive advice:
Emilia: Teachers can also take part in helping. They should always be open to talking to the student who is feeling lonely or left out. They can also talk about more to convince students to have empathy. Another thing they can do is be more aware. Teachers can do that by keeping a better eye out at lunch. If they did that then they could catch students that are feeling alone or being made fun of.

Natalie: I think teachers can feel empathy for their students when a student is looking tired. Usually, teacher will say this "Please get to work," what they should really do is walk up to the student and make sure everything is ok. If teachers really want their students to be honest with them they have to try to open up to the student.

 Ben: I think teachers at our school should be more empathetic to their students. If a teacher yells at somebody one day, they should put themselves in the children's position. What if the child had family issues outside of school. What if they were being bullied that day. How would they feel if they got yelled at? The student already has enough problems to worry about, and the teacher is just making them harder to solve.

Norah: A lot of kids think that not giving homework is the only way for a teacher to show empathy towards a students, but it's really much more than just that. Teachers should put themselves in students' shoes by understanding that kids aren't going to sit still completely quietly for the 7 hours of the school day. Some of my teachers are kind, but only a few, I feel, can really understand their students. Only a few are able to make some jokes to cheer up a student, or answer a student's question, even if the teacher already answered it, because they understand how one little thing can make a kid's whole day better.
And some clarified their thinking about what the word empathy really means:
Emily: Before watching this video, I believed that empathy was showing respect and kindness to another person. But when I finished viewing the two videos, my thinking completely changed. Now I think that showing empathy means to put yourself in that person's place and to consider your actions.
As I read through and left comments for each of my fifty students,  I felt so much better about the "holiday I wants" – and I felt that I had learned a thing or two about being an empathetic teacher, as well.