My  sixth graders love graphic novels, so it has been a pleasure and a relief to find so many wonderful new examples of this genre being published all the time.  Comics Confidential: Thirteen Graphic Novelists Talk Story, Craft, and Life Outside the  Box, compiled and edited by Leonard S. Marcus, interviews thirteen graphic novelists to discover their creative journeys and inspirations in this particular genre, which makes for fascinating reading.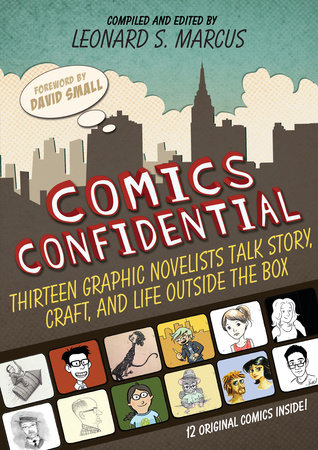 Each of these author-artists shares childhood stories, as well as their experimentations with different types of visual mediums, to trace the way they arrive at both a story to tell and how to best to use their art form to tell it.  Danica Novgorodoff, author of The Undertaking of Lily Chen,  offers this insight into what drew her to her craft, which is echoed in one way or another by  the other  writers included in the collection:
I love the potential for experimentation, all the different ways you can combine words and images.  I like the different types of pacing you can have: the expanses of space and time, and the moments of silence and great action that you can fit into a single page.It's a very versatile form.  The text and images can be paired to tell the same story in two completely different ways, or they can tell two different stories simultaneously.
This would be a wonderful book to share with students at the very beginning of the school year, when students explore genres even as they explore  their classroom libraries.  I also loved the rich insights these authors shared about how other aspects of their lives (race, culture, etc.) influenced their artistic directions.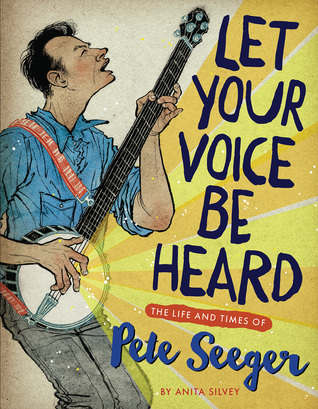 Pete Seeger was a national treasure, both for his music as well as for the spirit of social justice which infused all his songs.  In Let Your Voice Be Heard: The Life and Times of Pete Seeger, Anita Silvey tells his remarkable story in a  well researched  and engaging way.  I was always  impressed with the way Seeger looked past his family's economic and social privileges to identify, instead, with those who were in need.  Many photographs and interviews help to place Seeger at the crossroads of   every civil and environmental movement over the course of the many decades of his life, movements that fueled and gave purpose to his songwriting.
I love that Silvey included Seeger's work  in cleaning up the Hudson River, because I have spent many a memorable June at the Clearwater Festival, contributing to and rejoicing in the work of  restoring health to the Hudson River again.  Reading this book brought back so many wonderful memories of activism and music that all seemed to feature, somewhere, the tall and smiling figure of Pete Seeger and his equally memorable banjo.